Introduction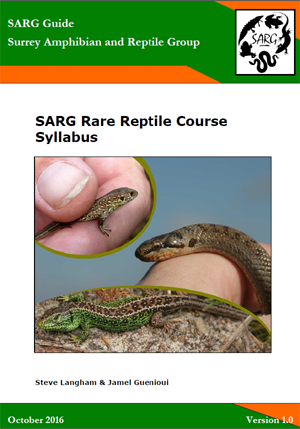 Download the Rare Reptile Course Syllabus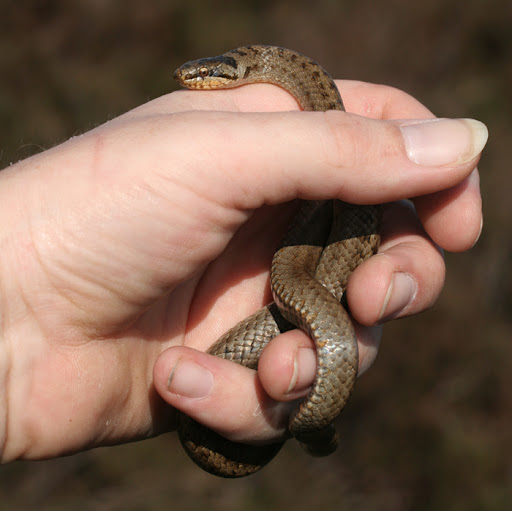 To handle, survey and maybe even to photograph protected animals such as this Smooth snake requires an exemption licence issued by Natural England
SARG is currently providing a way to support professionals and active volunteers to obtain experience with the survey of rare reptile species, with the goal of the student applying for an exemption licence by a Countryside Agency (such as Natural England).
We are providing specialist training, for a cost, and maintaining a relationship with the candidates over two survey seasons (and beyond), where the candidate undertakes voluntary surveys, provides the structured data from these surveys, and can be assessed in the field. If after the conclusion of this survey period, having met the course goals and should we consider the individual to be responsible and competent, then SARG will provide a reference for an application for an exemption licence, and can even assist with the paperwork.
We can never guarantee the success of an application, as the application decision will be made by Countryside Agency staff, beyond any influence of SARG. However, if endorsed by a SARG licence holder, after a proven period of working with the animals, a supported application is likely to be viewed more favourably than any individual application.
If you would be interested in this approach, please contact Jamel Guenioui to register your interest. The decision to offer this service has not been made lightly, as it involves considerable investment of time by currently licensed members.
Process
Each candidate will attend a field trip for training regarding survey, handling and recording at one of the priority reptile sites within or bordering Surrey.
You will also attend an instructed sand lizard burrow survey in June, and will be expected to lead one survey for volunteers.
Over two seasons (April until the end of October), each candidate is expected to conduct sufficient surveys to check 150 refugia (about 12 surveys), and an accompanied survey for assessment, at a variety of key reptile sites that are known to support rare reptiles, or are currently being surveyed to determine rare reptile presence.
On-line tools provide refugia maps of key sites, and provide data files that you can upload to a hand-held GPS unit. The use of a GPS unit, such as a Garmin eTrex, is strongly recommended.
Surveys will be performed to a high professional standard, with formal reporting via an on-line application. Paper records should be maintained by individuals to guard against the unlikely possibility of electronic corruption. SARG will maintain a log-book of activity and records submitted.
At the successful conclusion of the training period, SARG will assist your application for a Schedule 5 exemption licence covering Smooth snakes and Sand lizards, by providing a reference that states your contribution and experience. We will also provide advice on the application process (maybe review of your application etc.).
Online assistance is available for any questions or concerns.
All sighting reports of rare reptiles will be shared with the Amphibian and Reptile Conservation Trust (ARC), for inclusion in their database.
Equipment
There is no absolute requirement for any specialised equipment, however a hand-held GPS unit is strongly recommended. It is possible to use detailed mapping and aerial photographs to find refugia, and to accurately record sightings, but this is a skilled procedure, and can be very time consuming.
You may find a small digital camera useful, to aid accurate reporting of gender or species seen. It can be difficult to determine the gender of juvenile specimens, and assistance is more effective with digital imagery.
An adult male Sand lizard - Britain's rarest native lizard.
An adult male Smooth snake - Britain's rarest native reptile.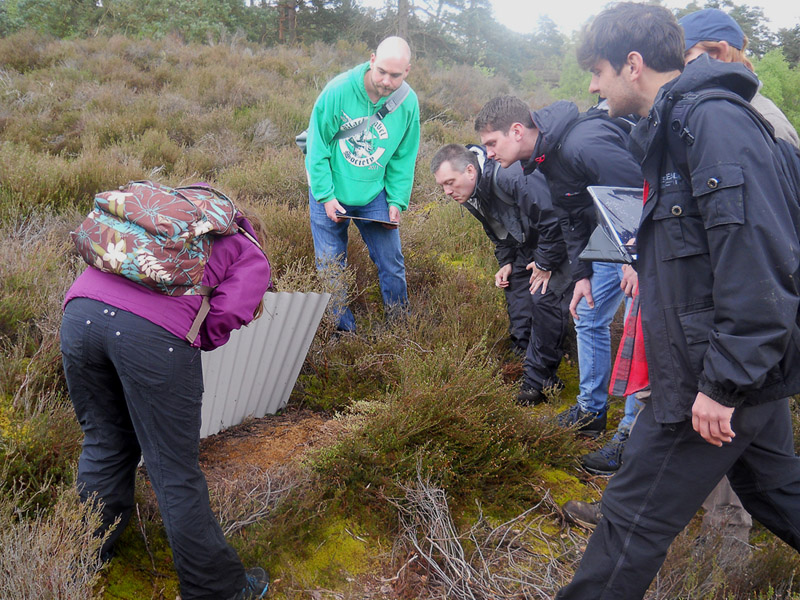 RRC Training Session
---
Caveat
Clearly we cannot guarantee the success of any application, as they are issued by Natural England, and the process is independent and beyond our control. You will have to apply for the licence. We aim to provide the training and offer a guarantee of your competence within the reference that we will provide.
The 'shelf-life' of our reference will be for a two year period. We believe that the skills learned will deteriorate over this time, unless active survey is continued, in which case the reference will be valid for as long as you maintain survey activity, and for two years afterwards.
Pre-requisites
You must be a SARG member to participate on this training course, as SARG membership is a mandatory requirement for our insurance cover.
SARG membership also allows us to provide you with accredited agent status on our exemption licence covering rare reptiles.
You will additionally have to sign a SARG volunteer worker's agreement, that covers the usual health and safety issues.
We will require a professional reference from your line manager, supporting your attendance on the course, and confirming that they consider you will complete the course. This is due to inactivity of some participants.
You must have access to a hand-held GPS unit to take the course. It has proven too difficult to conduct effective surveys using maps.
Course Completion
You must attend a mandatory SARG Rare Reptiles Course training day.
You will complete your own surveys during the practical element of the course to the following requirements.
You must successfully record all surveys using the SARG online survey reporting apps.
Over the duration of the course, you must complete a minimum of 150 refugia checks.
You must survey a minimum of 8 different sites, 5 of which must support rare reptile species.
You must have sucessfully surveyed Sand lizard and have recorded biometric data for Smooth snakes.
You must conduct an accompanied survey with one of the course accreditors to fine-tune your survey skills.
You can keep track of your progress through the 'RRC Status app' on the Reptile Surveyors menu.
Donation
SARG will require a donation of £100.00 per entrant to cover the management of the course. This includes all training, supervision and online support both during your survey period and during any subsequent licence application. Also included is the management of your log-book and the issue of a formal reference upon completion of the course. Should you be unable to complete the course, a partial reference will be provided, stating what you have achieved. Refunds will not be possible, as places are limited, and once enrolled, you are preventing somebody else from participating.
The course donation does not include SARG membership, which is currently a bargain at £6.00 per year!
You will bear all transport costs that you incur traveling to survey sites.
Enrollment
The next Rare Reptile Course will start in March 2022.
If you are interested in the SARG RRC, then please contact Jamel (SARG Reptiles Officer) at Reptiles@surrey-arg.org.uk.